Welcome to the AASLH Resource Center
The AASLH Resource Center is a collection of resources designed to help you do good history. Here you can register for upcoming professional development events and build your personal library from recent History News issues and Technical Leaflets, recorded webinars, and audio recordings. Keep track of your learning all in your Dashboard as you explore by category and resource type.
Featured Resources and Events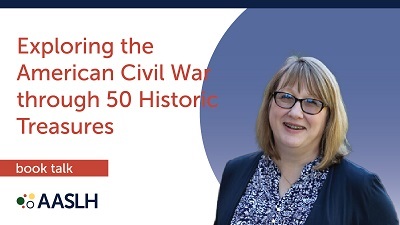 Book Talk: Exploring the American Civil War through 50 Historic Treasures
AUG. 10, 2021 | 3 - 4 PM ET | Exploring the American Civil War through 50 Historic Treasures brings together historic objects, documents, artwork, and the natural and built environments to tell the full story of this important event in American history. The American Civil War still matters because the war—its causes and its consequences— continue to influence America as a nation today. Through 50 fascinating historic items, this book discusses the causes and impacts of the war, slavery and its expansion, battlefield and homefront stories, technological and medical innovations, and the ordinary people caught up this massive national conflict. Join Dr. Julie Holcomb, Associate Professor in Museum Studies at Baylor University, as she shares some of the stories found in the pages of her recent AASLH book Exploring the American Civil War through 50 Historic Treasures.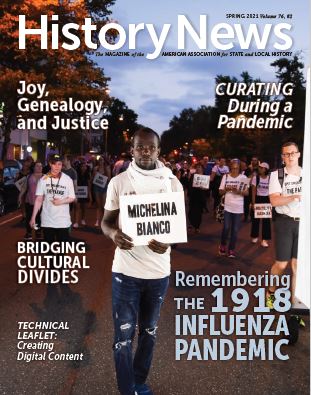 History News Spring 2021
History News Spring 2021 Volume 76, #2. History News is the official magazine of AASLH. Each quarterly issue includes featured articles, regular columns, and a Technical Leaflet.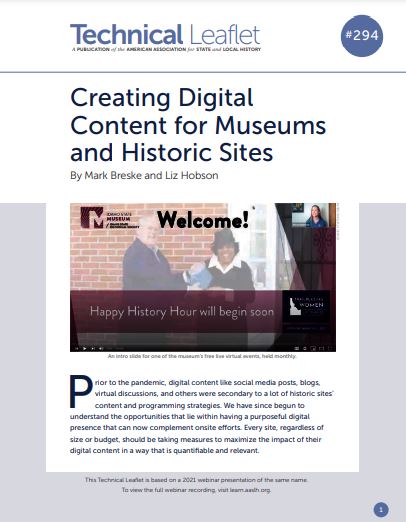 Technical Leaflet 294: Creating Digital Content for Museums and Historic Sites
Technical Leaflet 294: Interpreting Slavery with Children and Teens is an AASLH Technical Leaflet. AASLH Technical Leaflets are brief, practical guides on how to do history. Technical Leaflet #294, written by Mark Breske and Liz Hobson of the Idaho State Historical Society, explains how sites can plan and create content for digital audiences that is effective, mission-driven, and relevant.
| Access Date | Quiz Result | Score | Actions |
| --- | --- | --- | --- |