SMALL MUSEUM PRO! ONLINE COURSE SERIES
Small Museum Pro! Certificate Progress
No credit information is available until you log in.
Small Museum Pro! (SMP!) is a professional certificate program for history practitioners who work or would like to work, in small history organizations. It provides practical guidance and education on a variety of topics. To receive a certificate, applicants must complete and pass five courses from the program. Eligible courses are listed below.
As you earn credits toward the Small Museum Pro! certificate, your progress will update in the box above. Please make sure you are logged in to see your progress. Once you have completed and passed five courses from the program, your certificate of completion will be available to print. If you believe you have earned the appropriate amount of credits and your certificate has not populated in the box above, please email learn@aaslh.org for assistance.
Eligible SMP! Courses:
Caring for Museum Collections
Collections Management
Developing Exhibitions: Planning
Developing Exhibitions: Design (Newly Added!)
Introduction to Financial Management
Leadership and Administration for History Organizations
Museum Education and Outreach
Each course is offered twice a year, but class sizes are limited to provide for an engaging experience. Please visit the course catalog for individual course descriptions and more information on course style and requirements.
Upcoming SMP! Courses
Museum Education and Outreach (Fall 2023) - Online Course
AUG. 28 – OCT. 22, 2023 | Museum Education and Outreach is an AASLH online course. This eight-week course, taught by instructor Jenn Edginton, teaches participants how they can facilitate visitors' meaningful and memorable experiences in the informal environments of museums. Successful completion of this course will earn one credit toward the Small Museum Pro! certificate from AASLH.​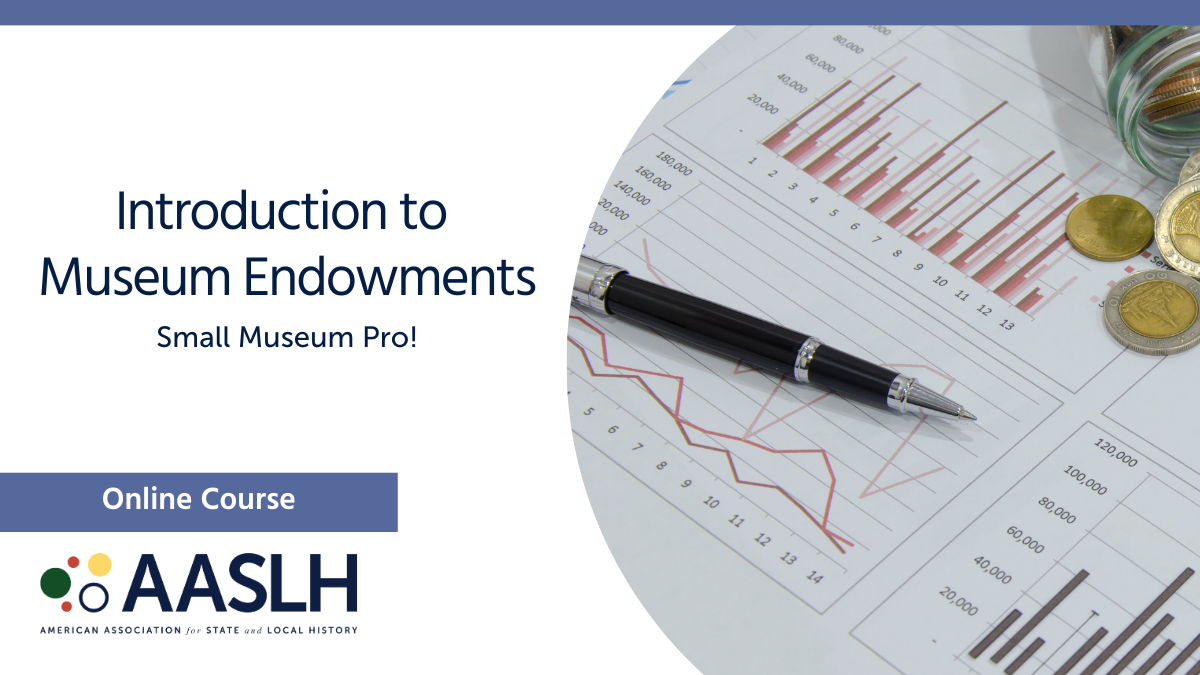 Introduction to Museum Endowments (Fall 2023) - Online Course
August 28 - September 24, 2023 | The establishment and management of endowment funds is a key source of institutional income and donor engagement for many museums. Many museum professionals and trustees, however, are less than confident in their understand of the components of endowment funds, and how best to effectively manage such funds for internal and external purposes. This course is designed to introduce students to the structure, benefits, and challenges of endowment fund management, from basic terms and definitions to topics such as impact investing and best practices.
| Access Date | Quiz Result | Score | Actions |
| --- | --- | --- | --- |