AASLH Conversations
The COVID-19 pandemic has caused an unprecedented crisis in our local communities, country, and world. Many are seeking answers and guidance during this time, and AASLH has been listening to the concerns from the history community. In response, we are offering more online content including the new AASLH Conversations webinar series. While no one has all the answers, we hope these topic-focused conversations will provide a space to share ideas to help us all keep moving forward.
We know many organizations are facing financial strain due to the pandemic, so we developed AASLH Conversations with that in mind. We have drastically reduced the registration fee and are also providing a special promo code to waive the registration fee completely.
The AASLH Conversations webinar series has been made possible in part by the National Endowment for the Humanities: Exploring the human endeavor.
Live Webinars
There are no products which match your search criteria.
Recorded Webinars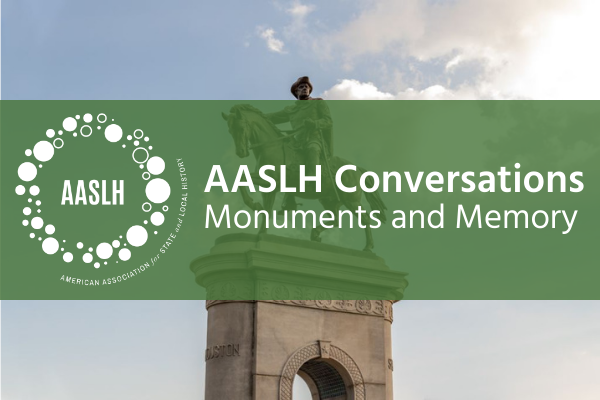 Recorded Webinar: AASLH Conversations: Monuments and Memory
RECORDED ON JUL. 9, 2020 | AASLH Conversations: Monuments and Memory is an AASLH webinar. In this webinar, Ashleigh Lawrence-Sanders of the University of Dayton, Estevan Rael-Galvez of Creative Strategies 360°, and Todd Groce of the Georgia Historical Society address the connections between the current wave of protests and the nation's rapidly changing commemorative landscape.
Recorded Webinar: AASLH Conversations: Working with Your Board During a Crisis
RECORDED ON JUN. 10, 2020 | 3 - 4 PM EST | AASLH Conversations: Working with Your Board During a Crisis is an AASLH webinar. Join Cathy Fields, Irene Rodriguez, and Norman Burns as they discuss how they have been working with their boards to tackle the ever-changing challenges of the current pandemic. They will discuss the importance of communication, adaptability, and the changing dynamics of how to govern properly moving forward.
Recorded Webinar: AASLH Conversations: Deaccessioning in a Recession? Why and Why Not
RECORDED ON MAY 21, 2020 | AASLH Conversations: Deaccessioning in a Recession? Why and Why Not is an AASLH webinar. Join AASLH Standards & Ethics Committee members Sally Yerkovich, Erin Richardson, and Heather Kuruvilla for a conversation about history collections in discussions about museum finances. The conversation will also introduce AASLH's newest position paper, "Valuing History Collections." ​