Developing Exhibitions: Design (Summer 2023) - Online Course
Course Description
An AASLH Small Museum Pro! Online Course
Developing Exhibitions: Design is an online course about how to design exhibitions. Guided by an expert instructor and supported by cooperative student learning, participants will design an actual exhibit. Participants will decide what their exhibit will be about and why, identify its storyline ideas and organizing concepts, and decide on its look and feel.
Throughout the course, participants will complete readings from the required textbook, review supplemental examples and case studies posted to the course site, and conduct an exhibit critique. Whether participants come to the course with an imaginary exhibit in mind, or with the intention to develop an actual exhibit, this course will guide them through each step, providing encouragement and guidance along the way and a chance to exchange ideas and experiences.
Each week participants will be expected to:
Study materials directly within the online class site;
Find other resources on the web or in the community and share them with the class;
Share your own knowledge, experience and resources with the class; and
Complete one or more exhibit-development assignments and share your work with the class.
Details
SESSION DATES: JUNE 12TH- AUG. 6TH, 2023

COST: $215 AASLH Members / $315 Nonmembers / 10% discount for STEPS participants with promo code found in the online STEPS Community
OPEN REGISTRATION: March 10th - June 5th, 2023; 30 participant limit. Courses typically fill up before the registration deadline, so register early.
NOTE: Developing Exhibitions: Planning is not a prerequisite for this course, but it is highly recommended you take Planning before Design. If you take Design first, you will be asked to complete some of the initial Planning assignments at the beginning of the course to set you up for success in Design.
Course Logistics
FORMAT: Online, Instructor-led, Weekly-paced course
LENGTH: 8 weeks
PARTICIPATION: Students should expect to spend approximately 5-7 hours per week on readings, text-based forum discussions, and assignments
LIVE ZOOM DISCUSSIONS: We recommend downloading the Zoom mobile or desktop app for this course.
A one-hour live Zoom discussion will be held biweekly on Thursdays at 12:00 PM Eastern
Zoom discussions are recorded in case a participant is unable to attend the live sessions
MATERIALS:

Required text: Exhibit Makeovers, A Do-It-Yourself Workbook for Small Museums, Second Edition, by Alice Parman, Ann Craig, Lyle Murphy, Liz White, and Lauren Willis, 2017.
Texts are NOT INCLUDED with registration. Participants must order the book separately from the book seller of their choice. A discount code is provided after registration when ordering directly from Rowman and Littlefield.
TECHNOLOGY: Participants will need access to internet and a desktop computer, laptop, or tablet to participate in this course. For the live Zoom discussions, we recommend having access to a camera and a headset, earpods, or other audio and microphone device. Automatic captioning is available in the Zoom discussions.

CREDIT: Successful completion of this course (B or higher) will earn one credit toward the Small Museum Pro! certificate from AASLH.
Participant Outcomes
At the end of the class, participants will:
Have firsthand, guided experience with a proven, step-by-step process for planning exhibits;
Have experience with tools that will assist you in exhibit planning for your museum;
Be familiar with other resources for more information; and
Have a network of small-museum professionals with whom to confer on future exhibits.
Who Should Take This Course
This course is a beginning level course designed for professional staff and volunteers of historical organizations and libraries who have little to no experience with exhibit development and design. Developing Exhibitions: Planning is no longer a prerequisite for this course, though may prove useful in preparation.
How to Register
Click here for instructions on how to register yourself or another user for this event.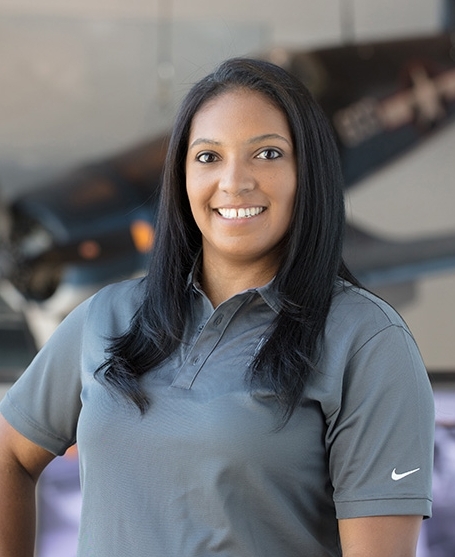 Jenney Fazande
AASLH Online Course Instructor
Email: jfazande1@gmail.com
Jenney Fazande is an experienced and creative designer with more than ten years experience in exhibit development, fabrication and museum administration. Holding a Master of Arts in Exhibition Design from the Corcoran College of Art and Design. Jenney has worked with museums and galleries of all sizes, including The National Museum of African American History and Culture, The National WWII Museum, The Smithsonian Anacostia Museum and Smithsonian American Art Museum, the Fernbank Museum of Natural History, the Museum of Design Atlanta, The Children's Museum of Atlanta, and more. Jenney has also collaborated with community artists working in varying mediums to bring unique installations to life in New Orleans, Atlanta, and Washington DC.
Experienced in all aspects of exhibit development and management – from design, fabrication and installation to accompanying marketing, public programs and financial oversight – Jenney can effectively translate concepts into compelling installations. An emerging leader in the museum field, Jenney was awarded the 2017 PACE SETTER Award by the Association of African American Museums for her innovative traveling exhibit, Fighting for the Right to Fight: African American Experiences in World War II, which has been on display across the country since 2016.
$i++ ?>
Components visible upon registration.
If you have any questions, please contact AASLH Professional Development staff at learn@aaslh.org or 615-320-3203.
Cancellation/Refunds for onsite workshops must be submitted in writing via email to learn@aaslh.org or mail to 2021 21st Ave S., Suite 320 Nashville, TN 37212. Cancellations made prior to the early-bird registration deadline date will receive a full refund. Cancellations made between the early-bird deadline date and eight days prior to the workshop will be subject to a $55 processing/materials charge. No refunds will be given within seven days of the workshop date. AASLH is not responsible for cancellations that were mailed or emailed but never received.

Cancellations/Refunds for online professional development (webinars and online courses) must be submitted in writing via email to learn@aaslh.org or mail to 2021 21st Ave S., Suite 320 Nashville, TN 37212. Cancellations made prior to the start date for the online course or the day of the webinar will be given a full refund. No refund will be given after the start date for the online course or on/after the day of the webinar. Registrants may transfer their registration to another person. Registrations cannot be transferred between courses or course sessions. AASLH is not responsible for cancellations that were mailed or emailed but never received.