Live Webinar: AASLH Conversations: Consultants Weathering the Storm
AASLH Conversations
The COVID-19 pandemic has caused an unprecedented crisis in our local communities, country, and world. Many are seeking answers and guidance during this time, and AASLH has been listening to the concerns from the history community. In response, we are developing more online content for our colleagues working from home. While no one has all the answers, we hope these topic-focused webinars will provide a space for history practitioners to share ideas and learn from each other collectively to help us all keep moving forward. We know many organizations are facing financial strain due to the pandemic, so we are developing this new AASLH Conversations webinar series with that in mind. We have drastically reduced the registration fee and are also providing a special promo code to waive the registration fee completely. Recognizing that this is a time of crisis that affects the whole field, AASLH included, we appreciate anyone who is still able to contribute to AASLH's efforts either through the reduced registration fee or a donation.
Webinar Description
Amidst the tidal wave of museum layoffs and closures, many independent consultants are struggling to stay afloat. As Anne Ackerson writes in The COVID-19 Impact on Museum Consulting, "These are the people who work independently across the field in collections, education, governance, art handling and more. They work from job to job, shouldering the full costs of benefits, building careers while offering services many museums and heritage organizations need, but can't afford on a full-time basis." What does the future, both short- and long-term, look like for consultants in the museum field? Join Anne Ackerson, Dina Bailey, and Max van Balgooy to discuss unique challenges facing consultants as they consider envisioning new paths or staying the course.
Details
DATE: April 16, 2020
TIME: 3:00 - 4:00 pm EASTERN (Remember to adjust for your time zone)
COST: $5 AASLH Members / $10 Nonmembers/ Free for anyone by using promo code below
PROMO CODE: If you are an organization that is facing financial strain due to COVID-19, please use promo code FREEWBR20 to waive the registration fee for this webinar. We appreciate anyone who is still able to contribute to AASLH's efforts through the registration fee or a donation.

ACCESS: You will be provided with instructions on how to access the live event upon registration.
Learning Objectives
In this webinar, participants will:
Find comfort gathering online with other consultants who are experiencing similar challenges and emotions
Feel encouraged to envision how work may look differently in the future
Hear others' ideas of how to be proactive about future changes
Recording and Closed Captioning
We will record this event. Access the Recorded Webinar in the AASLH Resource Center after the event has passed. Registrants of this event receive complimentary access to the recording in their Dashboard.
Closed captioning is provided for the live event. A transcription of the closed captions is provided with the recording.
Anne Ackerson
AASLH Online Course Instructor; Independent Consultant
In a career spanning three decades, Anne Ackerson has served as director of several historic house museums and historical societies in central and eastern New York, the director of the Museum Association of New York, and now currently serves as the executive director of the National Council of State Archivists.
In 1997 Anne began an independent consulting practice focusing on organizational development issues for the smaller nonprofit cultural institution. She writes regularly about management and leadership issues for cultural institutions in her blog, Leading by Design. She is a frequent workshop/webinar presenter on issues of museum ethics, executive leadership, financial management, and board roles and responsibilities. In addition to teaching the AASLH Online Course Leadership and Administration for History Organizations, she developed curriculum materials and a webinar on strategic planning for the American Association of State and Local History's STEPS program, a national standards program for history museums.
$i++ ?>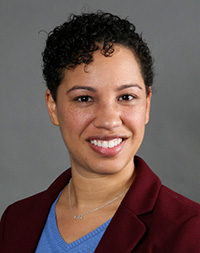 Dina Bailey
Secretary, AASLH Council; CEO, Mountain Top Vision
Dina Bailey is the CEO of Mountain Top Vision, a consulting company that works with organizations on trainings and strategic initiatives that support more inclusive communities. She has been the Director of Methodology and Practice for the International Coalition of Sites of Conscience, the inaugural Director of Educational Strategies at the National Center for Civil and Human Rights, and the Director of Museum Experiences at the National Underground Railroad Freedom Center, and a high school English teacher at Pike High School. Dina holds a Bachelors in Middle and Secondary Education, a Masters in Anthropology of Development and Social Transformation, and a graduate certificate in Museum Studies. She has been an adjunct professor at Johns Hopkins University and has been published in both the formal education and museum fields. Dina is proud to be the Secretary of the American Association for State and Local History, the Board Chair of Next Generation Men and Women, and the Chair-Elect of the American Alliance of Museums' Education Committee. Dina may be reached at dina@mountaintopvisionllc.com and www.mountaintopvisionllc.com.
$i++ ?>
$i++ ?>
Key:

Complete

Next

Failed

Available

Locked
Live Webinar: AASLH Conversations: Consultants Weathering the Storm
04/16/2020 at 3:00 PM (EDT) | 60 minutes
04/16/2020 at 3:00 PM (EDT) | 60 minutes
AASLH Conversations-Consultants Weathering the Storm - Closed Captioning Transcript
Open to download resource.
Open to download resource.
Cancellation/Refunds for onsite workshops must be submitted in writing via email or mail. Cancellations made prior to the early-bird registration deadline date will receive a full refund. Cancellations made between the early-bird deadline date and eight days prior to the workshop will be subject to a $55 processing/materials charge. No refunds will be given within seven days of the workshop date. AASLH is not responsible for cancellations that were mailed or emailed but never received.

Cancellations/Refunds for online continuing education (webinars and online courses) must be submitted in writing via email or mail. Cancellations made prior to the start date for the online course or the day of the webinar will be given a full refund. No refund will be given after the start date for the online course or on/after the day of the webinar. Registrants may transfer their registration to another person. Registrations cannot be transferred between courses or course sessions. AASLH is not responsible for cancellations that were mailed or emailed but never received.
If you have any questions, please contact AASLH Programs staff at 615-320-3203 or learn@aaslh.org.